2014 MELBOURNE CUP RESULT

1st - Protectionist - ridden by Ryan Moore
2nd - Red Cadeaux - ridden by Gerald Mosse
3rd - Who Shot Thebarman - ridden by Glen Boss


The Sweep Generator © is a programme to produce all your Melbourne Cup sweeps. Just enter your participants names and the prize money - The Sweep Generator does the rest.

THE SWEEP GENERATOR FOR THE 2015 MELBOURNE CUP IS NOW IN HIBERNATION
The 2014 Melbourne Cup field is reproduced with the permission of Racing Information Services Australia (RISA), Website : RISA
Register
To use The Sweep Generator you will need to Register. The only details required are a name and an email address. After registration you will receive a login by email, i.e. a username and a password. In the email you will also receive details of how to pay the subscription. Payment is by PayPal or Bank Deposit only and costs $2.
All proceeds received go towards the upkeep of this website. Any extra is donated to a charity of choice.

Last year's login is not valid - you will need a new login this year.
The Sweep Generator is not affiliated with and does not have the endorsement or approval of the Victoria Racing Club, which conducts the Melbourne Cup.
"What a wonderful programme - saves me at least 2 hours each Cup morning preparing our Sweeps"

--- Dianne of Brisbane
November 2013

"Thanks for your application, got me out of a tight spot in the office. Are you considering producing an app for next year?"

--- Ron B.
November 2013

"Thank you so much for your website. At last an application that really does save hours of work."

--- Christian
November 2013
LOGIN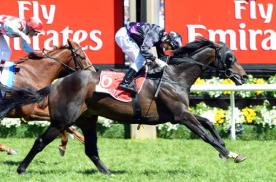 How Much Does It Cost?
"Please accept my thanks for this wonderful web-site you have created.
I have been running my work's sweeps for the past 22 years and it is only since finding your site 3 years ago that the organising of these sweeps has been made much easier.
Thank you and looking forward to using your site in 2012."

--- Kaye S of Melbourne
November 2011